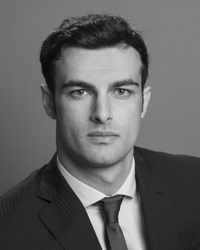 Antonio Fatone received his law degree from LUISS in Rome (summa cum laude) after studying at Singapore Management University in the Exchange Program.  He received an honorable mention for his dissertation on Exclusive Dealing Agreements in Antitrust Law.
In 2019, Mr. Fatone graduated with an LL.M. (cum laude) in International Business and Trade Law from Fordham University School of Law.
As a native of Italy, Mr. Fatone is fluent in Italian and proficient in Spanish.