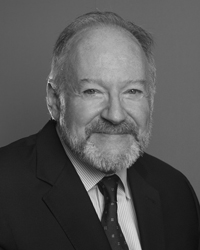 Frederick W. London is a Partner at Dunnington concentrating in international corporate acquisitions and litigation management and is also a member of Dunnington's employment practice group, the Italy desk and co-chair of the Latin America desk.  He has been with the firm for over 20 years. Mr. London's other positions included serving as General Counsel of two European based publicly traded companies (Securitas AB and Hexagon AB), General Counsel of Pinkerton's Inc. in California and an attorney in the Enforcement Division of the U. S. Securities and Exchange Commission in Washington, D.C.
Mr. London sits on the Board of Directors of the Cicero League of International Lawyers, Securitas Group Reinsurance (Ireland) and Iverify, Inc.
Mr. London is admitted to the bars of the State of New York, the U.S. District Court for the Southern District of New York and the U.S. Supreme Court. He is a member of the American Bar Association and the Association of SEC Alumni.
Mr. London received his Juris Doctorate from Georgetown University and his Bachelor of Arts from Princeton University.