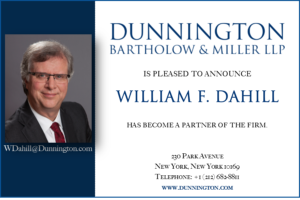 William F. Dahill is a member of Dunnington's employment, litigation, arbitration and mediation practice area. Since 1991, Mr. Dahill has concentrated his practice on complex commercial litigation and employment litigation and counseling. Areas of focus include securities industry litigation, employment litigation, payment processing disputes, asset purchases disputes, secured lending disputes, partnership disputes, shareholder disputes and construction litigation.
Mr. Dahill counsels and represents business entities at all levels and stages from start-ups to public companies. He also counsels and represents individuals in claims and defenses in litigation and employment matters. He appears regularly in Federal and State Courts in New York and Connecticut. Mr. Dahill is admitted to the bar in the States of New York and Connecticut, as well as to the bars of the Southern District of New York, Eastern District of New York, and the Courts of Appeals for the 2nd and 5th Circuits. In addition, he has appeared in jurisdictions throughout the country, including Northern District of Ohio, Pennsylvania State Court, Eastern District of Pennsylvania, Eastern District of Tennessee, Texas State Court, New Jersey State Court and Illinois State Court. Mr. Dahill conducts jury and bench trials, as well as appellate arguments. In addition, Mr. Dahill has conducted numerous arbitrations through full hearings at FINRA, AAA, JAMS and ARIAS. Finally, Mr. Dahill has substantial experience with successful mediations conducted both through the courts as well as private organizations.
To learn more about Mr. Dahill, visit his profile at www.dunnington.com/william-f-dahill
---
About the Firm…
In 2021, Dunnington Bartholow & Miller LLP will celebrate one hundred years of successfully serving its clients. A century ago, Dunnington was a small partnership of outstanding professionals whom prominent New York families relied on for their legal needs. Today, Dunnington is a fast paced, multi-faceted international practice that maintains its core values of reliability, trustworthiness and commitment to excellence. With over 30 attorneys, we continue the high standard of personal service and attentiveness to clients that the firm has provided since its founding.
Dunnington lawyers practice in a wide range of industries and practice areas and serve a global client base seeking reliable advice in the New York market. Dunnington's personalized approach gives each client an efficient, cost-effective team to tackle the problem at hand.
Dunnington's practice areas includes Employment, Corporate, Litigation, Trust & Estates, Intellectual Property, International, Real Estate, Immigration and Not-for-Profit practice areas. Further industry specific practice areas include Art law, Fashion law and Advertising law. Dunnington also focuses on Private Equity and Capital Raising, Trademark and Brand Development, Anti-Piracy and Anti-Counterfeiting, and the Hospitality Industry.
The firm is a member of the Cicero League of International Lawyers advising a range of international clients with ties to the US.
Dunnington is currently expanding its client base in the French, Italian, Latin American, and U.K. markets with initiatives led by various Partners of the Firm.
To learn more about Dunnington, visit www.dunnington.com.