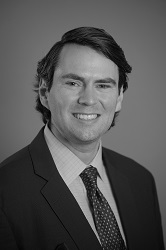 H. Winfield Glascock is counsel to Dunnington, specializing in financing and corporate structuring transactions, with a particular focus on Reg A+, Reg S, Reg D and LLC formation, operation and negotiations.
Among recent transactions, Mr. Glascock advised on a private placement for a digital asset trading platform, and he is currently advising on two financing transactions for a Japanese technology group with patented cryptocurrency "cold-wallet" digital storage and portable media player devices.
Additionally, Mr. Glascock regularly advises both non-profit and for-profit entities on corporate governance and reporting issues, including obtaining 501(c)(3) status, drafting market-standard employment and conflict of interest policies and handbooks, and assessing officer and director liability.
Mr. Glascock is admitted to the New York State Bar Association and the Law Society of New South Wales. He is conversant in Portuguese and has a working knowledge of French and Spanish.
He received his Bachelor of Arts cum laude from George Mason University in History and International Comparative Politics and subsequently received his J.D. from the University of Sydney Law School.